Mirissa
At 11 years old, she was diagnosed with RSD. Her doctors
told her parents that she'd never be out of pain:
"Put her in a nursing home", they said.
Fortunately, that was not going to happen and her parents became
the ultimate patient advocates and continued to search for a solution.
---
October 1, 2007
Dear Friends,
Mark here. My wife, Diane, had her epidural injection in June with an excellent pain management specialist, Dr. Medhat Mikhael of Pain Medicine Associates. I was taken by a painting in his waiting room. Done in oil on canvas, it contained a wonderful poem written by a young girl. It was a Thank You gift for a doctor that had an incredible impact on her (and her family). I took a picture of it thinking that I'd like to share it with the patient community... just a heartwarming story.
I decided that I could not put this on the internet without permission of the family, and fortunately, I was able to find them. When I finally connected with Mirissa's family, I could not believe their story. This will be so much more than a heartwarming anecdote and beautiful piece of art to share. I hope that his story will help many others with RSD or CRPS to continue searching and hopefully to find a solution. Having been told to give up and accept the constant, severe pain: four years later, Mirissa is a happy and healthy 15 year-old with a normal life. The RSD is in remission... her last serious episode was 3 years ago.
I spoke to Mirissa's mother again today. They'll be along soon to tell the story in their own words. (I look forward to the parent's perspective as well as the patinent's). They'll also, to point me to the places that I can help direct RSD / CRPS patients towards.
More coming soon. Enjoy,
Mark
---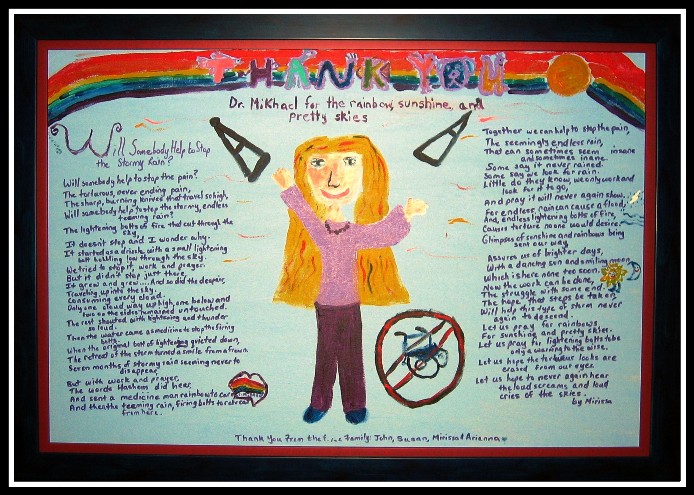 ---
Will Somebody Help to Stop the Stormy Rain?

Will somebody help to stop the pain?
The torturous never ending pain,
The sharp, burning knives that travel so high,
Will somebody help to stop the stormy, endless, teaming rain?
The lightening bolts of fire that cut through the sky,
It doesn't stop and I wonder why.
It started as a drizzle with a small lightening bolt hobbling low through the sky.
We tried to stop it, work and prayer,
But it didn't stop just there,
It grew and grew…and so did the despair,
Traveling up into the sky.
Consuming every cloud.
Only one cloud way up high, one below and two on the sides remained untouched.
The rest shouted with lightening and thunder so loud.
Then the water came as medicine to stop the firing bolts.
When the original bolt of lightening quieted down,
The retreat of the storm turned a smile from a frown.
Seven months of stormy rain seeming never to disappear,
But with work and prayer,
The words Hashem did hear,
And sent a medicine man rainbow to care,
And then the teaming rain, firing bolts to retreat from here.
Together we can help to stop the pain,
The seemingly endless rain,
That can sometimes seem insane and sometimes inane.
Some say it never rained.
Some say we look for rain.
Little do they know, we only work and look for it to go,
And pray it will never again show.
For endless rain can cause a flood,
And endless lightening bolts of fire,
Causes torture no one would desire.
Glimpses of sunshine and rainbows being sent our way,
Assures us of brighter days,
With a dancing sun and smiling moon
Which is here none too soon.
Now the work can be done,
The struggle with some end.
The hope that steps be taken,
With help this type of storm never again to descend.
Let us pray for rainbows
For sunshine and pretty skies.
Let us pray that lightening bolts be only a warning to the wise.
Let us hope the torturous looks be erased from our eyes.
Let us hope to never again hear the loud screams and loud cries of the skies.

Thank You Dr. Mikhael for the rainbows,
sunshine, and pretty skies!