| | |
| --- | --- |
| Greetings from Berlin! | May 2, 2007 02:00 (Berlin) |
Here I am in Berlin at my 5th SAS. It's great to come here again and see how the industry has changed. (Perhaps it's just my perception that has changed.) The good trip to Berlin started at 4am Monday morning in California. Lousy routing had me changing planes in Chicago and again in Frankfurt. I'm looking forward to a wonderful congress. I attend 3-4 meetings a year, but SAS is the best. Check out the program, posted HERE.
Please note that my opinons expressed here are just that... my opinons.
Mark
PS. Please comment on the SAS blog on this iSpine thread!
iSpine Lending Library - check it out!!!
I have two copies of the program and abstract book available for the lending library.
Technology Disclaimer
The devices, procedures, etc... discussed on this site are in various stages of development. While some have been proven safe and efficacious, are FDA approved and widely available; others may be in a wide range of developmental stages. Some are proven and are just waiting for FDA approval of the manufacturing process, which is expected very soon. Some are exciting ideas that may prove to be very bad ideas; possibly even harmful disasters. Some represent brilliant ideas that may ultimately become life-saving products while others will never make it to the marketplace. Even for the great products, development / testing / approval process may take years or even decades. There is no guarantee that any information presented here is correct. Items discussed here may never be available to the patient community. Medical decisions should not be made based on information found here.

iSpine Lending Library - check it out!!!
(I have 2 copies of the program and abstract book for the library.)
Day 1 - Tuesday, May 1, 2007
Private Lessons:
The layover in Frankfurt turned out great. As I waited to board the plane to Berlin, I bumped into Dr. Joshua Auerbach. He's working at U Penn and has been doing significant ADR-related research. I had met him last June in Straubing as he was training and setting up a study on vertebroplasty (using Cortoss). On Thursday, he's presenting a paper titled: "Effect of implant size or subfailure vertebral endplate compression mechanics in lumbar total disc replacement"
He also is presenting the following four posters
Augmentation with Cortoss Improves Vertebral Body Compression Biomechanics for Lumbar Disc Arthroplasty
Effects of ProDisc Positioning on Lumbar Kinematics as Determined using Specimin-Specific Finite Element Model
Total Disc Replacement Changes Facet Contact Stresses in Extension, Lateral Bending, and Axial Rotation.
We had about an hour and a half together. Instead of sitting in on a 15 minute talk, to hear the data, we got to spend a full 1.5 hours reviewing his data. Being able to ask questions 1 on1 with the author was a great bonus. This is incredibly interesting stuff. Vertebroplasty, facet loading, positioning issues and adjacent level motion/stresses are all topics near and dear to all of us.
Exhibit hall open early:
I was not planning on attending the "pre-course" sessions today. After the 22 hour travel ordeal, I found that I was unable to get an early check-in. I left my bags at the hotel and went to the conference venue to check in. I was surprised to learn that the exhibit hall was open as the vendors were setting up. Although I was way underdressed in jeans, tennis shoes, and a sport shirt that I'd come from California in... I made my way around the exhibit hall. 5 years ago and for 2 years after that, SAS, NASS and the other spine meetings were dominated by Charite' and ProDisc. A couple of years ago, we started to see more new technology, and a whole bunch of "ME TOO" devices that were basically knock-offs of the current designs. This year, there is some wonderful new technology.

Globus' new lateral and posterior approach lumbar discs look like quantum leap improvements over the MISS approach total discs that we were seeing last year. There is a new cervical disc by SpinalKinetics that is bringing back some great ideas that hadn't worked in the past... but with the problems solved. They have a cervical disc with a compressable poly core that will be held in place with a mesh 'chinese finger trap' that holds the core in place, holds the 2 endplates together, yet still allows normal range of motion in all dimentions (including axial rotation), while providing dampening or shock absorption in a unique way.
Pre Course Instructional sessions open....
After cruising the exhibit hall, I discovered that I could get into the Pre-Course Instructional sessions. Zeegers and Büttner-Janz were there... it was nice to see them again. The session that I came in on was "What have we learned from Total Joint Surgery - And How It Relates To Total Disc Replacement"
The last paper was presented by Dr. Steve Kurtz. He was discussing wear debris, explant retrieval analysis, device failures, etc. He presented xrays of 2-explanted Charite's, both implanted same day, both explanted the same day. One core was pretty throughly destrouyed and one intact. The oxidation of the UHMWPE on the destroyed device was substantially higher. The implication seemed to be that oxidation of the device lead to catastrophic failure of one core, while the other core was fine. I had a little exchange with Dr. Kurtz about whether the oxidation caused the failure, or the failure caused the oxidation. We met a little later and continued the discussion. I hope to see films of the pre-expant configuration as well as the pre-core-failure config. That will answer a lot of questions for me.
Maverick Explantation: Read on iSpine about Dr. Zeegers explanting a GPN client's Maverick at L5-S1 last week.
More to come about the day's sessions.
Day 2 - Wednesday, May 2, 2007
More to come about the day's sessions.
Day 3 - Thursday, May 3, 2007

More to come about the day's sessions.

20 years of Lumbar Arthroplasty:
A celebration of the CHARITE' Artificial Disc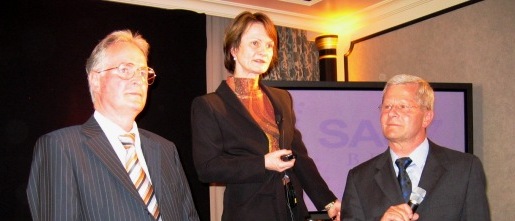 J&J / DePuy Spine hosted an evening event to celebrate more than 2 decades of spine arthroplasty. Appropriately, co-inventor, Karin Büttner-Janz was honored with the presence of several thankful patients including Mr. Wolfgang Lehmann, the first artificial disc patient. His ground-breaking surgery was done on September 19, 1984... yes, almost 23 years ago. Also present was Dr. G Pietschmann who was one of the first SB Charite III patients. His Charite' disc was implanted on his birthday in 1988. I found it amusing that his surgery was on his birthday, because I consider September 19, 2002 to be my re-birthday!
Mr. Lehmann is 15 years older than I am. I wish that I was in as good a shape as he is... he sill plays tennis two times a week! Dr. Pietschmann also works out regularly.. I feel so pale and out of shape next to them!
During the session, I had an epiphany that I shared with the group. I have been attending the surgeons conferences for almost 5 years now. I always sought out Dr. Büttner-Janz to thank her for her part in saving my life. I always felt as if I was thanking her on behalf of Charite' patients everywhere. As I sat and watched the incredible panel and audience that included some of the most experienced ADR surgeons in the world, I was taken by the gravity of where I was (Berlin) and who I was with. It was amazing to meet the patients that were done 2 decades ago. I realized that I should not be thanking her on behalf of Charite' patients... really, every patient that has benefitted from any spine arthroplasty device owes a debt of gratitude to Dr. Büttner-Janz and so many of of the other pioneers who made it happen. ProDisc, Flexicore, Maverick, Kineflex, MobiDisc, etc.... all of them! Willem Zeegers, Thierry David, Luiz Pimenta, Matthew Scott-Young, Louis Nel, Scott Blumenthal, John Regan and others... all pioneers in their own right.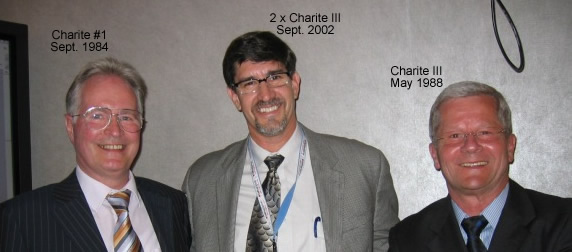 This was an excellent technical session as well. The history was discussed and hearing Büttner-Janz' description of how critical decisions (like using a mobile core) were made was very interesting. I was surprised to hear her discussing use of discography back in the 1980's. About 1/2 of the spine surgeons I know (the ones not at SAS), still don't believe in discography. Unfortunately, Dr. Büttner-Janz had to leave before I could ask her about that. I was able to discuss it at length with doctors Zeegers and David and all talk to Büttner-Janz about it tomorrow.
After the revision discussion, I asked if anyone had ever revised a Charite', only replacing the core. I was shocked that that had been done only once. Zeegers replaced a core when a wire marker broke. The prosthesis was nicely sized and positioned and functioning properly, so only the core was replaced. Thierry David remarked that the reason there are no other core replacements is because revision surgeries are done because of problems that result in incongruent placement of the plates, subsidence, migration, etc.... By definition, most revisions must include explantation of the plates.
I truly enjoyed this event and felt honored to participate. When I deal with Zeegers, Büttner-Janz and Regan (also did surgery on me), I really feel like these are the people who were instrumental in my recovery... personally involved.
THANK YOU DOCTORS!
Mark
Day 4 - Friday, May 4, 2007
More to come about the day's sessions.
SAS-7, The Day After - (Saturday, May 5, 2007)
Breakfast with Hiram Chee,
Executive Vice President, SpinalKinetics

Update 5/5/07, 7pm Berlin
Like most industry exec's at a trade show, I imagine that Mr. Chee was up until the wee hours of the morning, wining and dining potential customers. That didn't keep him from responding to an early morning SMS message asking if he could meet me for breakfast. He gladly obliged and seemed to be thankful for an excuse to get an early start as he had only one free day in Berlin and he was ready to see some sites!
Spinal dynamics has a new cervical total disc replacement (M6°) that is very interesting. I hope to write much more about it later. Mr. Chee had just spent a most greuling week representing his company at SAS. I do not envy the people who work the shows... it's endless hours; zero rest; non-stop work work work. He must have been exhausted. Even so, as we got into almost 3 hours of non-stop spine, it was clear that we could have gone on all day. He's excited about what he does and has so much interesting information and insight to share. Being so many years into this, I should not be suprised by this phenomenon, but I still am. I too am excited about what I do and want to soak up the information like a sponge. I think and hope that he finds my unique perspective as a patient and patient advocate interesting and useful as well! .
Our conversation covered so much ground. He's a design engineer that's been involved in new medical devices for 25 years. As EVP of SpinalKinetics, he oversees and/or is involved in many aspects of development, manufacturing, operations and marketing. His insights into the difficulties of bringing new product to market were eye-opening. We discussed many of the new technologies being presented at SAS; what is going to work... what's not; patent infringement lawsuits; ethical issues surrounding clinical trials; marketing spin vs. useful information, constrained vs. unconstrained prostheses, keel vs. cleats... and on and on and on. One of the more interesting topics we discussed was why some centers get such different results than others. For me, I could not have had a more interesting breakfast. I hope it was more than just another morning at the office for him. After our 3 hour breakfast... so much for an early start on his sightseeing. Maybe with the 40 cups of coffee that we each had, he can tour them at high speed.


| | |
| --- | --- |
| Coffee with the researcher | Update 5/5/07, 9pm Berlin |
As Mr. Chee and I were saying goodbye in the hotel lobby, we bumped into Jenni Buckley. I'd been meaning to talk to her throughout the conference, but never caught up with her. (You have to understand how fast these conferences move. If you blink or stop to chat with someone, you miss something important. You get to the end of the conference and realize how much you wanted to do that you never got to.) "Jenni, you get the Mark Mintzer award for best questions asked throughout the conference." No joke, she really asked some provocative questions that spawned some great discussions during many of the panels. (I don't know how prized the Mark Mintzer award will be. It's probably not worth much, but she seemed to appreciate the compliment.) I asked if she had a few minutes to chat? "Sure, I'm going for coffee, why don't you join me." I really needed another cup, so we walked over to Potsdamer Platz for more caffeine.
I wanted to talk to her about an interesting issue that I perceive regarding spine researchers. Ms. Buckley is a postdoctoral scholar working in Orthopaedic Surgery and Bioengeneering Laboratory run by Jeff Lotz. At SAS-3 in Phoenix, AZ, I wrote about "My lunch with the researchers". I had gone out to lunch with a neurosurgeon and several prominent researchers. My friend, Neil Crawford, runs the spinal mechanics research lab a the Barrow Neurological Institute in Phoenix. His colleagues at the lunch run prestigious labs all over the continent. During lunch, I said, "OK, I have a captive audience here. I want to know... imagine for a minute that:
you've been suffering from unrelenting, severe low back pain for 2 years.

you've failed all types of conservative treatment

your doctors are telling you that you need ADR or a 2-level 360 fusion.

You are so bad-off that you have no quality of life. You are desperate.
What do you do?"
I was shocked by the answer. I was honestly expecting gentlemen to give me some insight into the ProDisc vs. Charite' dilemma that many potential ADR patients were struggling with. That's the choice that I thought they were making. To a man... every one of them said that they'd most likely do nothing, or a 2-level global fusion. Remember that this was 4 years ago. At SAS-7, I was hoping to recreate that event. Unfortunately, there was not time, but I hope that Neil will help me recreate my informal poll of top researchers via email. 4-years later, I'm expecting that they've learned the error of their ways and will all embrace motion preservation technology. However, the buzz that I'm getting from the researchers I spoke to this year is something like: "If I'm a lumbar patient, I still think I'd still choose fusion. Cervical ADR is looking pretty good, so I'd take a closer look at it before deciding what to do."
What I wanted to talk to Ms. Buckley about is my theory about what I've heard from all these brilliant PhD's who study spinal mechanics, all day, every day. Some may think that the take-home message is, "Wow... these people really know what they are talking about... I'd better be worried about ADR." I don't think so. IMHO, the take home message may something more on the order of:
They do not understand the premise of the question. They do not understand what a chronic pain patient faces. When you are so bad that you'd happily undergo a surgery even if the stands only a 50% chance of success... do nothing is not an option.

They do not understand the consequences of a failed fusion. They live in a world of pull-out-strength, compression characteristics, coupled motion, particle size, oxidation rates, wear debris, etc... When they worry about the advisibility of using new technology, they may not realize that the 'gold standard' may not be golden? In my early days of being a spine patient, I thought that you go to the doc, do what he says and you get better. I had no idea how common failed back surgery is, or how severe the consequences could be. Do they know?
We had a wonderful walk and a great discussion. I got to have another latte' as I was feeling the need for some more caffeine. Jenni seemed to be intrigued by my "patient's perspective" of the industry that she lives in. Her experience is very interesting to me. Her publications include:
Non-Invasive Strength Assessment of Human Thoracolumbar Vertebrae,
UC Berkeley, Copyright 2006

Sensitivity of Vertebral Compressive Strength to Endplate Loading Condition,
Journal for Biomechanical Engineering, October 2006

Quantitative computed tomography-based predictions of vertebral strength in anterior bending

Comparison of quantitative computed tomography-based measures in predicting vertebral compressive strength

Influence of disc arthroplasty placement on motion segment kinematics
Poke around on her website, me.berkeley.edu/~jbuckley/. Look at her CV and research. She's been studing bone quality, vertebroplasty, spinal kinematics re: disc arthroplasty, and more for many years. Getting a private lesson from her on the difference between DEXA and QCT bone density measurements was very, very informative and really helped me to understand why so many doctors prefer QCT.
She's invited me to participate in a panel discussion at a conference for biomedical researchers, or a she discribed it, "a geekfest". As with the Ethics conference I've participated in for a few years now, having the patient's perspecitve represented is still a unique and refreshing idea.
Unfortunately, I had to cut our discussion short... we only an hour or so before I had to run. But the day's next event was amazing!
| | |
| --- | --- |
| Charite', 31.975 years of experience, or | Update 5/6/07, 1:00 am Berlin |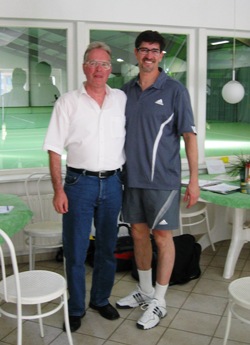 Charite', 22.7005 year follow-up, or
"How long will a poly core last?
What should this post be titled? Here is the math:
5-May-2007 minus 19-September-1984, that's 8,263 days, or 22.7005 years that Wolfgang Lehmann has had his SB-Charite' ADR in his spine.
5-May-2007 minus 20-September-2002, that's 1,688 days, or 4.637 years. Multiply 4.637 times 2 discs, to get my total experience with 2 SB-Charite-III ADR's.
So, on a tennis court in Berlin today, we had 31.975 years worth of Charite' ADR experience playing. I had been hoping to make this happen for some time and I have to give my thanks to Karin Büttner-Janz for making it so. I can't tell you how much fun this was or how emotional it was for the both of us. I ran from my morning meetings to my hotel to change and just barely make it on-time to SportClub Mitte in what in 1984 was East Berlin.
I had hoped to have someone to video for us, but that didn't happen. We started warming up and I was wondering how I'd get the video... what pictures should I take? After a nice warm-up, we decided to play a set. Keep in mind that I have settled into a lifestyle working, and working more, and then working some more. (My clients that have me call them at all hours will attest to that.) I am waaaay out of shape, but hopefully, I'll correct that soon. In any case, just a few minutes into our match, I was suprised how the need to create a photo opportunity was 100% replaced with the joy of running and sweating, and hitting a tennis ball and competing again. I rediscovered why I probably don't participate in athletics much anymore. I don't have a medium switch. I want to run every ball down... I think I can reach every passing shot. The extreme lunging, sprinting, rapid direction changes, etc... are a little extreme for an out of shape 50 year old grandfather with 3 spine surgeries and 2 artificial disc. I don't understand what none of that is in any way limiting for the 64 year-old grandfather across the net who's running my legs off. ("Me, a grandfather... that still sounds wierd!)
Just a couple of games into the set, I really went for an impossible ball and pulled up a little lame with a minor groin pull. OK... work it off... run it off... I'll be OK. There was no way that I'd stop playing now... this is way too cool. I wondered if I got hurt, how would I get the video of us playing tennis that I wanted. Oh well... if it happened, I'd have Wolfgang video them putting me into the ambulance... that would make a better story anyway. (Maybe it would teach me a lesson that I need to learn!)
Wolfgang's English is much better than my German, but my German isn't very good. It was often difficult, but we communicated OK and some of our court-change conversations were quite interesting. In 1988, I played tennis 6 days a week. A minor fall skiing injured my rotator cuff. A few weeks later, I still could not lift my arm above shoulder height, but I was getting very antsy not playing tennis. So, I signed up for the tennis leagues at my club and played left handed. I was a 5.0 player, but joined the 3.0 league as a lefty. I came in second and moved up to 3.5 where I won about 1/2 of my matches. I've never met anyone else who'd done that... until today. Wolfgang had exactly the same experience. We are so different, yet have so much in common.
Later in the match, I was ahead, so I 'gifted' him a point by electing to volley a ball that was clearly going to be way out. It was going to be so far out that I was embarrassed by having done that. He was clearly unhappy by my choice but politely accepted the point. A few seconds later, he gifted a point back to me in a similar fashion.... just like I would have done. Nobody is going to give me a point that I didn't earn... I don't care what the score is. We are so different, yet have so much in common.
After our set, we did try to capture some video. I'll put it up as soon as I can. We sat down for a beer and talked a bit about our spine ordeals. Remember that we have a significant language barrier. I was interested in his recovery, so I drew him a graph of mine. Starting at a constant pain of 8/10, I drew a blip to 9 for the first week post-op, back to 8 for the second, then a steady march downwards till week 7 where my pain levels were down in the 2,3,4 range. I was surprised to hear that his graph started at a constant pain level of 9, then at 24 hours post-op it was less than 1. He was classic discogenic pain... remove the disc and your pain goes away. He was in it for 1.5 years and I believe that he was as severely disabled, or more than I was.
I talked about the impact on my family... my wife being a stay-at-home mom for 18 years, suddenly needing to support the family financially and still clean and shop and... We talked about the depression that comes along with endless months or years of chronic, severe pain. I think that our ordeals were very much the same. Again, we are so different, yet have so much in common.
I have to discuss the disc. Wolfgang's Charite is nothing like mine. They call it the 'bottle cap'. This surgery was done before placement and implant sizing issues were understood. This surgery was done before potential complications for total disc replacement were understood. Today, when I'm dealing with someone who's going for a single-level ADR of any type, I worry for them... 23 years after Wolfgang's surgery, we are still dealing with many of the same issues that were discovered in the early patients through the 80's and 90's. The fact that Wolfgang is playing tennis 23 years later is a testament to the genious of Kurt Shellnack and Karin Büttner-Janz - the 'S' and 'B' in SB Charite'. The fact that they got it right the first time... with no roadmap to guide them... I find remarkable.
While we were playing I kept thinking how amazing this is... East Berlin, 23 years with the very first disc, and now at age 64, still playing tennis twice a week.. When we were done and enjoying a beer it was great to get to know him a little better. Knowing that we had been through the same experience with almost the same device, 18 years and 1 day apart... this was just too much fun. Looking at my new friend's natural smile instead of that grimace of pain made this one of the most incredible experiences I've ever had. We both had to come to Germany to get it done, but his trip was a little shorter than mine.
| | |
| --- | --- |
| "Thank you Dr. Büttner-Janz!!!" | "Thank you Dr. Zeegers!!!" |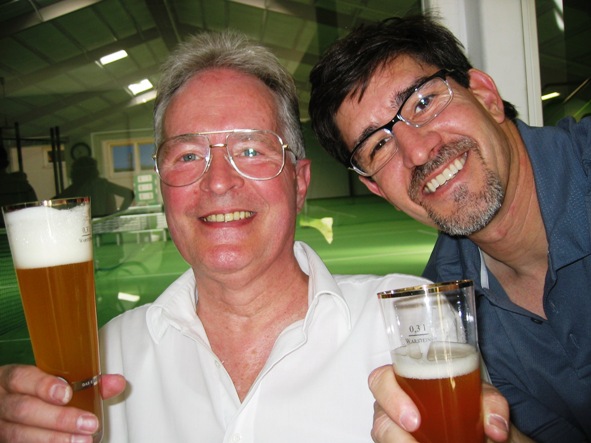 Please comment on the SAS blog on this iSpine thread!
---