"I don't know when I truly became a spine patient, but it's not what I want to be!"
Mark here. Diane never had a hint of a back problem until May of this year. She's 49 years old and has worked as a Registered Nurse since my disability began in 2000. (She had been a stay at home mom for 18 years, but when it was clear that I was not going to be able to work, she reactivated her nursing license and became the breadwinner for our family.) In early May, she had to stop working because of severe low back pain. (No leg pain in the early days of her problem.) After a few weeks of frustration with Doctors not taking her problem seriously, and after her leg went numb, she insisted on an MRI. It showed a massive disc protrusion at L5-S1. Within days, I had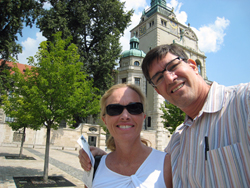 evaluations by top spine surgeons all over the US and all over the world. The consensus seemed to be that with a fresh disc protrusion, the chance of symptoms resolving on their own was substantial. She should try some epidural steroid injections and wait to see if it would resolve on its own. She had one injection in mid-June with very little (or no) benefit.
Following the injection, she was still having constant low back pain, leg pain, numbness, and strength loss. As the weeks wore on, her symptoms grew worse. By the time we got to be two months post-injury, most of the doctors were saying that at this stage, if it's going in the wrong direction, it's unlikely to have a good resolution without surgery. We evaluated many different surgical options. While minimally invasive spine surgery (MISS) is an attractive solution for many discectomies, Diane's disc protrusion was so large and the sequester had traveled so far, that only Dr. Hoogland at the AlphaKlinik felt Diane was a good candidate for MISS. Diane works at an excellent hospital and had scheduled an open, microdiscectomy with a very good local surgeon. Less than a week before the surgery, our research again brought us to MISS options and we decided that she'd come to Germany with me for an evaluation by doctors Thomas Hoogland (world leading endoscopic specialist) and Herbert Baumbach (the most thorough neurologist I've ever met.) On Saturday, July 28th, we left Los Angeles, arriving in Munich on Sunday. More in Diane's words below.
---
THE DECISION (Diane's words)
Getting to the decision to have surgery was a difficult process. After months of back pain, leg pain, an MRI that showed a very large herniation at L5-S1, and not much relief from and epidural injection, I was ready to do something. I wasn't in severe pain, but my activity level was severely limited. This was not how I wanted to live. Mark and I met with a local spine surgeon and I was very impressed with him. Since he performs surgery at the hospital I work in, I had already spoken to many nurses and other OR staff. He's good. I was very comfortable with his approach and I decided to go ahead and schedule surgery with him.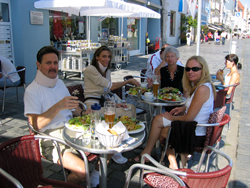 I still remember that day in the doctor's office. Mark had a terrible look on his face when I told the doctor that I wanted to schedule surgery. When we left, Mark said, "I can't believe that you just scheduled surgery." I asked him why he didn't say anything during the appointment. He said, "I want you to make your own decision. I don't think your making a mistake, but this would not be my choice."
Mark had asked my surgeon many questions about details of the surgery, and continued to talk to other surgeons about specific techniques - pros and cons; consider: Do they evacuate the disc space or just go after the protrusion? How aggressively will they chase the sequester - how far can they reach from one level? After more discussion about my options, we decided to go for a second opinion with a surgeon that Mark and I really trust. (John Regan). He confirmed that his recommendation was for a microdiscectomy and had nothing but good things to say about my doctor. I was comfortable with my decision. Mark was getting used to my decision, or so I thought.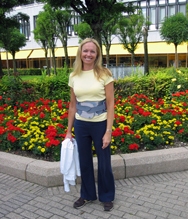 July 13, 2007 - Friday the thirteenth. (This section was written before we left for Munich.) What a morning. I woke up and the sun was shining bright. A perfect beach day! I was hoping take Taffy to the dog beach today. It has been quite a few days since she's been out, but I'm having lots of leg pain. I felt so good yesterday. I went to the family room where Mark was on his computer. I could tell that he was upset. He hasn't been talking to me much lately - he says he's busy with work. Yes, he's busy, but it is much more. He came to me and said, "I can't believe that you are dismissing options before you fully understand them. I believe that this surgery will be successful, no matter which option you choose. All of the discectomy options will remove the protrusion and decompress the nerve. However, the disc is severely compromised and you may need further surgery. What you do now may have serious implications, years later."
We talked more and he voiced concerns that my surgery was next week and you never know the outcome. I was pretty much thinking of discectomy as a simple procedure, forgetting that it was where Mark started years ago,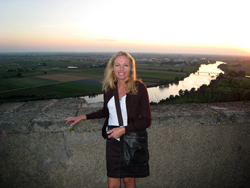 on his way to "spinal hell". I hadn't ever thought of myself as a chronic pain patient. As far as I was concerned, this was going to be my only surgery. As we talked more, I decided that I should go see Dr. Hoogland and find out more about his procedure. A few minutes later, Mark was on the phone with Dr. Zeegers to ask if Dr. Hoogland would be in town the week before Mark's next trip to Germany. Dr. Zeegers was so gracious with his time and well-wishes. (He had personally called me a few weeks ago to explain that if my pain was bad, there was no need to suffer. "Come to the AlphaKlnik and they can fix it." He told me the story of his own back experience - severe pain on the weekend. Endoscopic procedure on Monday and at 2pm he rode his bike back to the hotel.) We wish it could be that easy for all of us!
I don't know why I changed my mind. I don't feel like I was pressured, I just came to look at things differently. I felt bad about canceling surgery. I had mixed feelings: relieved that I wasn't having surgery a few days later, but sorry that it wouldn't be behind me.
---
Pre-Op day, July 30, 2007 (Diane)
The day at the AlphaKlinik was a long and hectic one. I was very comfortable because Mark was there looking out for me. Also, I'd been through it before with Mark, five years before, when our roles were reversed. I was great having someone like him to help me, but I tried to keep focused and had my own questions to ask. The meeting with Dr. Hoogland went well and he answered all my concerns. A new MRI was performed and it showed that the sequester had shrunk substantially. I asked, "but why are my symptoms getting worse?" Dr. Hoogland said that it's because the portion that's left is much harder and pressing on my spinal cord.
We scheduled an endoscopic discectomy for the next day. I met with Dr. Gregor Blome who performed a complete physical. (I've never had a doctor draw his own labs before!) The AlphaKlinik is VERY thorough. Dr. Blome also performed an ultrasound, essentially doing a full body scan and checking every organ. I also met with the anesthesiologist. The endoscopic procedure is done under local anesthesia. I felt better having a local because as a nurse, I know the risks of general anesthesia.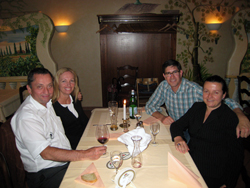 That evening, we met with Dr. Baumbach for a complete neurological exam. He was very personable and thorough. While some of Dr. Baumbach's findings were a surprise, knowing my neurological status BEFORE the surgery, seems to be very important.
Surgery, July 31, 2007 (Diane)
I was up early to have some tea and eat a few bites. Since the surgery was to be done under local anesthetic, I was able to eat and drink until 07:30. Of course I was nervous, but I felt like I had made the best decision and was ready to proceed. We walked over to the AlphaKlinik.
I left Mark and was taken into the pre-op area. He went to get dressed in scrubs to be in the OR. When he first asked if I wanted him on the OR, I didn't think it was a good idea because he would be too emotionally involved; but now it was very reassuring that he'd be there. They gave me some medication IV in pre-op to relax me and I dozed off to sleep peacefully. I remember being asked to turn on my side and that's it. I woke up several hours later in the recovery room and asked the nurse if the surgery was over. The nurse discontinued my IV, and then helped me put on the brace and get up to a lounge chair where I had tea and cookies. 30 minutes later and I was with Mark and on our way back to the hotel. That afternoon and evening, I slept for hours. My pain was surgical pain, not leg pain; and it was easily controlled with Tylenol and Codeine. Moving and turning were done slowly. In the evening, I was starved and ordered spaghetti from room service. I was greatly encouraged because it seemed that my leg symptoms had been addressed and I was only dealing with surgical pain.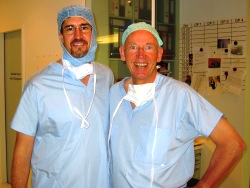 Mark here: It was interesting going through the surgery day with Diane. After they came and took her to the pre-op area, I had some time to kill as the OR staff said that they would call me when she was going into the OR. It was clear that my role was 'the husband'... and this was to be much different than my patient advocate role that they are, and I am so used to. When I put scrubs on and went back into the operating theatre, Diane was already 'out'. She was in such a light sleep that the slightest provocation would wake her. Each time she'd wake, she'd look at me get such a wonderful smile. It was great to feel that I was offering such comfort to her. (I just wish that she remembered it!) It was amazing how she was able to discuss and answer questions, then when we stopped talking to her, she just went back to sleep. No pain, no distress at all.
When the operation got underway, I was shocked by how anxious I was. I've been in the OR for well over 150 surgeries now and have seen so much. It was clear that this was very different and I was quite nervous at every step. Dr. Hoogland is amazing. I already knew that because I've been in the OR with him on several other occasions. Even so, it is so impressive to see the accuracy and efficiency of a master at work. His confidence is inspiring and his intuition is spot on. While I still was anxious about the outcome because under the best of circumstances, spine surgery is still something of a crap-shoot, I was certain that Diane had made a good choice and that this was our best option.
THE RECOVERY (Diane's words)
In the first few days following the surgery, I felt that my leg pain was gone, but my back pain had increased. I was controlled with low levels of medication. (I took almost no pain meds before surgery, so Codeine was very effective for me.) It was hard not to wonder if I had done the right thing, as even a couple days after surgery; my low back pain was still so much more than before. For the two days following the surgery we stayed close to the hotel. Many of our meals were out at Arabella Square and I took several short walks each day.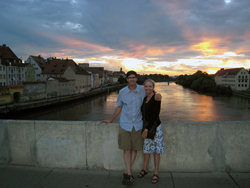 On the third day, we took a taxi into Munich and ate lunch in the beer garden. We also went to my favorite bookstore. Mark posted a more detailed progress report here on iSpine. Day four brought a trip to a Museum and on day five we walked for miles in the English Garden.
Mark was very busy the next couple of weeks with business. I increased my walks every day and weaned myself off the back brace and the pain meds. I still needed the Celebrex. I was encouraged that at less than 2 weeks post-op, I was able to walk for an hour. Leg symptoms came and went at very low levels, but whenever I walked, my legs felt better. My low back pain seemed to get better each day. I was walking faster, taking longer steps and was able to move easier.
At just over two weeks post-op, Mark's business ended. I was doing so well that we decided to extend our trip. We spent a couple of nights at a wonderful hotel, enjoying Regensberg. Then we headed to Prague for three days before returning home. Prague was wonderful! We were able to walk the old town and eat at outdoor cafes at an incredible town square.
We finally returned home on August 16 after being gone for 25 days. It was great to be home. I was tired of staying in hotel rooms and a little bit bored by the second week. Although, after being home, I realized that it was good to limit my activities. Laundry and housework do aggravate may back more than walking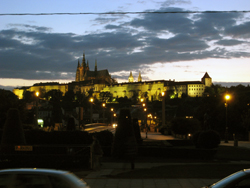 .

September 9, 2007 - 6 weeks post-op (Diane)
I'm very happy with where I am now. I'm taking Taffy to the dog beach almost every day and walking almost 2 miles on the sand in addition to the long walk from the car. My daily activities have increased. I spend less and less time sitting down for rest periods. I still make my trips to the market short and don't pick up heavy items. I still take Celebrex and can tell if I miss a dose, because I get some mild hip and low back pain. (Actually the hip pain is much improved and almost gone.)
During the last two weeks I've made a lot of progress. I'm happy with where I am now. I still feel some nerve symptoms on the top of my foot and outside of my calf. Strangely, every morning, the middle toes on my right foot feel numb when I wake, but this goes away soon after I get up. I continue to improve, week by week. If I didn't make any further progress, I could live with my symptoms. I wake up feeling good and look forward to my day. I'll keep you posted.
Diane
---
June 6, 2007

July 30, 2007

July 31, 2007
From the pictures above, you can see that in less than 2 months, the appearance of the disc protrusion has changed dramatically. Interestingly, while Diane's symptoms were growing worse and worse, the fragment was getting smaller and smaller. Our understanding is that the fresh protrusion is all plump and soft, much like a grape. After a few months, it is dehydrated and much smaller, but much firmer... like a grape shrinks into a raisin. It's easy to imagine how the smaller fragment can cause more problems if it is much harder. We found it amazing that Dr. Hoogland wanted to do another MRI, since the last one was less than 2 months old. Part of the decision is the poor 'gantry angle' on the previous MRI which has the MRI aligned well for L4-5, but provides only a very oblique viewing angle for L5-S1. With a difficult endoscopic procedure, Dr. Hoogland felt that a more reliable 'map' would be useful. Fortunately, the MRI showed that what we thought would be a very difficult procedure was then, quite ordinary. We were VERY thankful that there was no time or effort spent looking for the large fragment that was no longer there. We wonder how much unnecessary collateral damage was saved by not having to go on a snipe hunt.