After 6 years of continued pain and numbness, my outlook was beginning to change. My work requires VERY fine dexterity and was fearing that I would not be able to continue my career. I couldn't play the guitar, I couldn't do anything! A friend suggested that I contact Mark at GPN. I was very pleased that in just a few short weeks, I was speaking to world-leading surgeons, not only in the US, but overseas as well. Unfortunately, the problems in my neck required treatment at several levels. Multi-level ADR was not available in the US, so we began to focus on overseas options. Dr. Bertagnoli had more cervical ADR experience than anyone in the world, so I selected him as my surgeon.
GPN's system made it very easy to communicate with all of the doctors and we were able to get through the diagnosis and scheduling with little problem. My wife is self employed and is a full-time grandma as well, so she could not come to Germany with me. When Mark explained what he does for his travel clients, it was easy to consider using his services for my surgery trip. I could NOT consider being couped up in a stressful ordeal with someone I don't get along with, so before I agreed, I went to spend some time with Mark. We went to main street in Huntington Beach for a great lunch. Unfortunately, Mark is pretty bizarre, but we share a similar sense of humor, so I decided to use him anyway.
The stress level in having surgery is bad enough, but going overseas for the first time made it even worse. The level of calm that Mark brings to the process was invaluable. Many times, I faced situations that might have been overwhelming, but Mark already had it handled and was able to cut through the stress and uncertainty and keep us focused on what we were there for. My case was was very extreme and I was a potential 4-level. My US surgeons were adamant that a 4-level procedure was completely inappropriate... "don't let him do that." I knew that with Dr. Bertagnoli, we'd test them all and would only consider such a large procedure if it was absolutely necessary. In that case, regardless of what the US surgeons said, I'd need such a surgery. Thankfully, 2 of my discs were very clearly the major pain generator, so we were looking at much less surgery (and much less expense!)
During the surgical ordeal and recovery, there were times when having Mark there working on my behalf really helped. Not only smoothing things out and making things easier, but also helping to increase the level of communcation with the doctors and staff in a way that made a substantial difference and goes far beyond just comfort.
After the surgery was over, I had what is apparently, a 'best ever' type of recovery. I was released from the hospital the following day, less than 24 hours post-op. .
Shortly after returning home, friends and family members would tell me how much better I looked. The way I walked and talked, all that stuff. What was clear was how much the constant pain had affecte my overall attitude and appearance. It is remarkable how this profound change has renewed my outlook on life.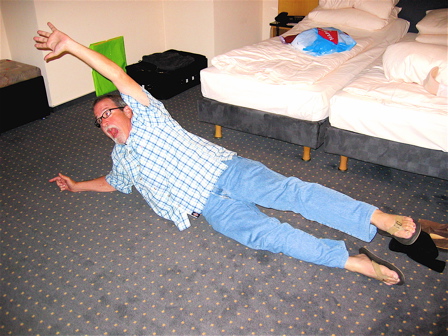 Indoor soccer day 5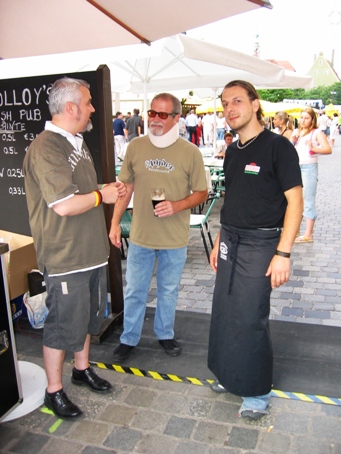 It was mid June and we had the good fortune to have our trip coinside with a very popular bi-annual street fair taking place in the town plaza in front of our hotel. While taking in the sites, I was offered a pint of Guiness by a gentleman who was opening his new pub that week and we found we had some common ground to build on. Andy's pub Malloy's is in the center
of what is a stereotypical Bavarian town that has all the earmarks of old world Germany with an upscale mall at street level. When touring the actual pub downstairs in a building that was clearly 150 years old Andy showed us a mural that was uncovered during the remodel. The painting is of the plaza above at street level at a time long since passed. What is remarkable is how little the town has changed since the painting was done. It is virtually unchanged. The old world charm of Straubing is still appearent in the architecture and landmarks while all of today's ammenities are at arms length when you want them. Eating real Italian pizza while wandering around this centuries old fortress of a Bavarian town was something I will always remember.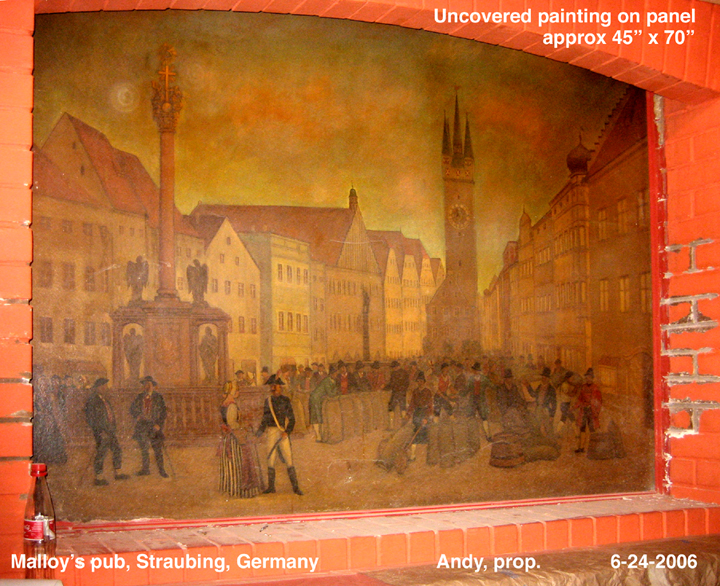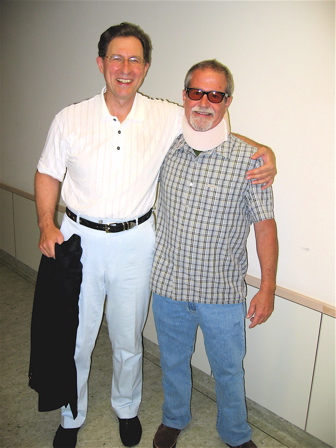 A final visit with Dr. Bertanoli before returning to California.

I learned on my lasy day in Straubing that I was being called "the quick one" by the staff at the hospital. What they were reffering to was my rapid recovery time. Obviously, I was happy to have been given the nick name.